Oscar's Trash Race 12-3-82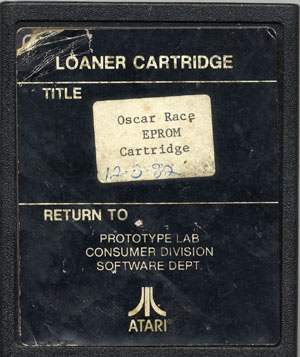 This is a VERY early graphics demo for Oscar's Trash Race. All the gameplay from the earlier version appears to have been scrapped as the game was given a complete makeover.
This prototype is dated a little more than a month after the unreleased earlier version of the game (10/20/82). You can actually see the transition between the two versions. The playfield is sort of a hybrid between the two designs (the dividers from the later version are there but implemented by making it a 'street' rather than lines in a field). Oscar appears at the bottom of the screen like he does in the earlier version instead of on a separate screen, however he looks more like he does in the later version rather than his earlier version incarnation (larger with more detail).
This prototype consists of only one static screen showing what the game was going to look like and was most likely made for the marketing department so they could take some pictures to put in promotional material.
| | | |
| --- | --- | --- |
| Early Version | Demo Version | Final Version |