S.A.C. Alert
Name:

S.A.C. Alert



Company:
Amiga

Model #:

2105 (cassette) & 3125 (cartridge)

Programmers:

Jerry Lawson (Videosoft)
Year:
1983


Released?

No


Notes:

NTSC and PAL prototypes exist

S.A.C. Alert (S.A.C. standing for Strategic Air Command) is the most complete of the five Amiga prototypes that have turned up, unfortunately it is also most uninteresting being quite similar to the M-Network game Air Raiders (now with ground targets!). After pressing select to choose between a ground or sea mission (the only difference being the color of the 'ground' and the type of enemies you encounter) you will be shown taking off on what has to be the shortest runway in the history of videogames. Once you are in the air you must shoot at both air and ground/sea targets. Of course the enemy targets will be shooting back at you, so you must dodge incoming bullets as well. Although you have an infinite number of bullets, it's often hard to hit enemy targets making the game a bit more frustrating than it should be.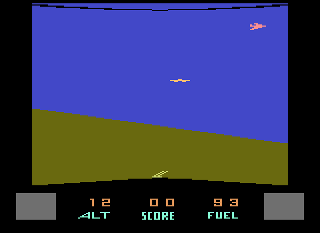 You start the game with three planes and 99 units of fuel. Fuel acts like a timer in this game, and you will crash if it runs out. In addition to a fuel gauge you also have altimeter showing how high above the ground you are (0 to 50). Being higher lets you shoot down planes, while being lower lets you shoot ground targets). Be careful though, if your altitude hits zero the ground will turn black and you will crash after a few seconds. There are also two warning lights on either side of the status bar, these lights will alert you to different dangers. They will flash red if you are too low to the ground (under 9), yellow if you're running low on fuel (under 20), and orange if you've taken heavy damage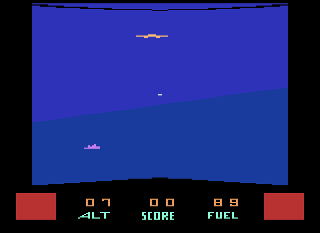 There are three types of enemies in the game. Planes patrol the air and will swoop towards you, fire, and run off. Taking these guys out is easiest when they're doing their swooping motion as they'll present the biggest target. In addition to planes there are anti-aircraft guns (land) and destroyers (sea) that appear at the beginning of the game, but won't actually start firing at you until the third mission. If you've taken too many damage you can attempt to land for repairs. To land you need to fly low and look for either a runway (land) or carrier (sea) and line up with it. Once you're low enough and lined up with the runway, pull up to land. It take a bit of getting used to, but it's not that hard after a few times. Once you've lost all your lives you will be given a final ranking (crew, pilot, or ace) and rated on your performance (0-9).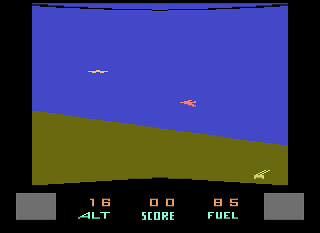 Interestingly it appears that S.A.C. Alert was designed with the Joyboard controller in mind. The Joyboard was an odd controller Amiga developed where the player stood on a plastic board that was supported on a little suction cup that stuck to the floor. The idea was that the player would balance themselves and lean in the direction they wanted the character to move. This worked far better in concept than in reality and makes most games impossible to play, even those designed for the Joyboard itself. S.A.C. Alert is no different in this regard so it is not recommended that you break out the Joyboard, regardless of what the prototype box artwork says. Either the playtesters at Amiga had super human reflexes and balance, or they were just masochists.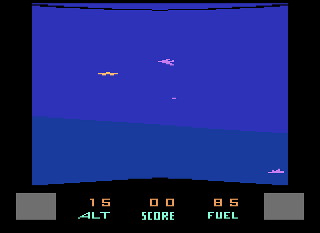 The history of S.A.C. Alert is interesting. Originally planned to be a cassette based game for the Amiga Power Module (a Supercharger type unit), it was then moved to the Power Play Arcade series of multicarts (see this page for more information). S.A.C. Alert would have been teamed up with Mogul Maniac, Surf's Up, and Off Your Rocker on Power Play Arcade cart #5 (5 carts were planned in total). It's unknown why Amiga decided to put five completely unrelated games on one cart, but it would have been a real deal for the penny conscious gamer. Perhaps Amiga knew that the market was becoming cluttered and thought that offering several games on one cartridge was a way to stand out from the crowd (Xonox did something similar with their double enders). Whatever the reason it was all for naught as the project was cancelled before getting out the door due to Amgia's decision to stop with the games and focus on a little computer that they'd been developing instead...
| | | |
| --- | --- | --- |
| Version | Cart Text | Description |
| ?/??/83 | | NTSC Version |
| ?/??/83 | | PAL Version |