5200 Menu
Name:

5200 Menu

Company:
Atari

Model #:

N/A

Programmer:

Unknown
Year:
1983

Released?

No

Notes:

Only one prototype is known to exist
This strange prototype first surfaced in 2003 in a batch of common 5200 prototypes (well as common as prototypes get anyway). As the name implies, this prototype is nothing more than a menu that displays the names of several early 5200 games. Of the games listed three immediately stand out from the rest.

Asteroids
As we all know Asteroids was never released (despite being the first 5200 planned), yet it appears on this list. It was long thought that Atari scrapped any plans on releasing Asteroids long before 83 (the final prototype dates to May of 1982), perhaps they were reconsidering?
Failsafe
Failsafe was the early Work In Progress name for Countermeasure. It's strange that the prototype name appears on this list as Countermeasure was completed in August of 1982 (a full 6 months before this prototype was made), and the final name had been decided even before that. Perhaps this prototype dates back earlier than the date on the label suggests?
Quagmire
This title is a complete mystery. It's assumed that Quagmire is a Work In Progress name for another game, but so far it cannot be matched up to any known 5200 game. Perhaps Quagmire was an original game that got scrapped or possibly a demo made specifically for this cartridge?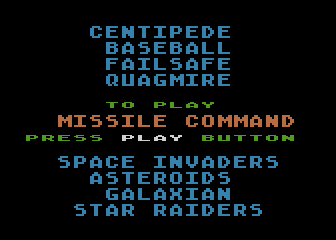 The control in this prototype is bit odd, it appears that only controller 4 has any function. Pressing the buttons on the keypad causes the list to scroll down to a specific game. Unfortunatley the games themselves are not on this prototype...
| | |
| --- | --- |
| Key | Game |
| 0,1 | Space Invaders |
| 2 | Asteroids |
| 3 | Galaxian |
| 4 | Star Raiders |
| 5 | Super Breakout |
| 6 | Football |
| 7 | Pac-Man |
| 8 | Soccer |
| 9 | Centipede |
| Start | Quagmire |
| Pause | Missile Command |
| Reset | Continually scrolls through the list |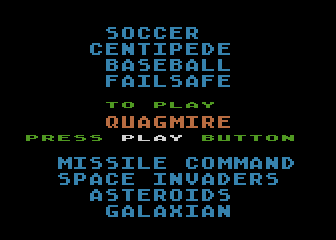 It's unknown what the real purpose of this prototype really was. The available evidence suggests that it was a game selector made for the Atari 5200 Kiosk (notice how it says to press the 'Play' button to start?) or possibly the 5200 hotel unit. Why Atari abandoned work on this cart is a mystery, but it may have had something to do with the lukewarm reception the 5200 got upon release. So far only one of these cartridges have turned up, but its assumed more are out there (possibly with different titles).
| | | |
| --- | --- | --- |
| Version | Cart Text | Description |
| 2/1/83 | Menu 2-1-83 | Only known version |