Taz 6-15-83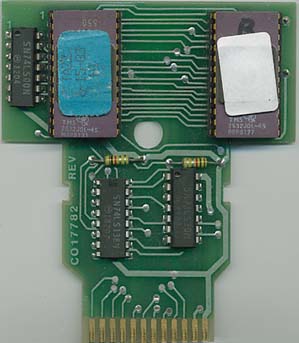 This prototype really threw the collecting community for a loop when it surfaced. Taz was long thought not to exist in PAL format since it was changed to Asterix for it's PAL release. Even though the label doesn't mention it, this prototype is in PAL format! Why would Atari make a PAL prototype of Taz? According to programmer Steve Woita:
"My plan was to just do Taz & convert it to pal/secam but maketing wanted me to redo the game with the Asterix character instead. They didn't think the Taz character was known enough over there (I'm sure they were correct about that). I put up a fight for over 3 days about this issue & gave in. We re-did the whole thing in 1 to 2 days."
Other than being in PAL format, this prototype plays the same as the final version with two exceptions:
1. The Woita Wave is not hidden. It was changed to the Crazed Wave in the final release and can only be uncovered by pressing select 22 times, starting the game, and pressing the fire button at the Crazed Wave screen. According to Steve the "Woita Wave" is supposed to be a pun for "What-A-Wave". Sure it was...
2. The title screen is spelled Tazz with two z's (and in a slightly different font). Why was it changed to one z? For the answer I went to the man himself, Steve Woita:

"That's what I originally named the game & WarnerBros. said "Let's try removing one of the Zs" & that's now why you see the TAZ name on all of the tasmainian devil products today."
So now you know the rest of the story...
| | |
| --- | --- |
| That's Tazz with two Z's... | Even in PAL format hamburgers are hamburgers |
| It's the famous (un)hidden Woita wave | After the Crazed Wave everything goes nuts! |